webgallery
about
What is WebGallery?

WebGallery is a simple software for easy creating online and
offline web galleries. Every image can be described and later
searched by its description. It stores all needed information
about the gallery in a separate XML file, which is read and
visualised in web browser.
It automaticly generates image thumbnails and if requested -
resizes big images ready for web publishing.
Every gallery is easy edited, so one can add or remove images
in a matter of a click.
Currently, only IE 5.0 and higher is supported.

Why WebGallery?

WebGallery is a very useful tool for digital camera owners.
It can organise in albums a huge amount of images, which can
be searched by various parameters. With WebGallery it's easy
to find "all pictures of me and my dog, which I made 2 years
ago in China"
screen shots
Here are some screen shots from Webgallery
Creating a web gallery is easy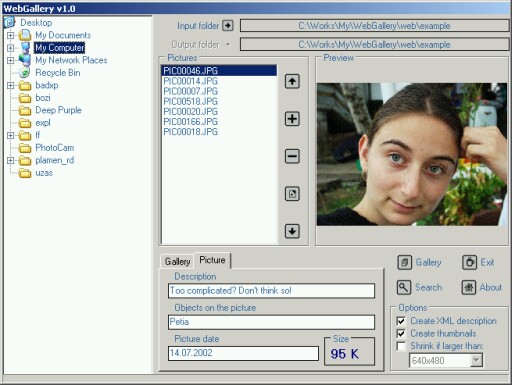 Searching in all local web galleries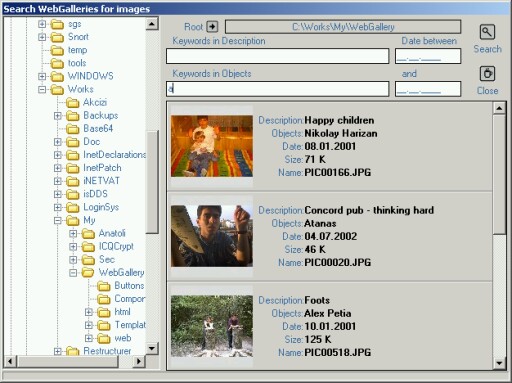 samples
Click here to see some sample album generated with WebGallery.
download
The information you provide in this section will remain confidential
Current version is 1.01
authors
Atanas Koev [mail]

HTML templates
Online XML
Webdesign
Copyleft Sep 2002, Nov 2002 FREEWARE
Including this software in separate software collection
have to be preceded by written permition of one of the authors!